Please note that I may earn a small commission from purchases made through product links in this article. As an Amazon Associate I earn from qualifying purchases.
Last updated: June 18, 2021
One good way to make your living room a more cozy and fun space to be, is to add furniture items that stand out and aren't very common.
A good example of that is the folding saucer chair, the kind of chair that not only looks a bit different from regular furniture, but is also super comfortable.
We have done the research for you and have shortlisted 5 awesome folding saucer chairs that will greatly improve your living room in many different ways.
Top 5 folding saucer chairs:
Top 5 Folding Saucer Chairs
In no particular order, here are 5 of the best folding saucer chairs for your house.
1. Mongolian Folding Saucer Chair

Bringing together elegance and fun, this Mongolian style folding saucer chair is great for people who want to achieve that minimalist style without being boring. This chair with a wide seating space is made with premium polyester faux fur fabrication placed over a sturdy metal frame for that highly desired durability.
Sit in style. This well-designed folding chair can ultimately become your Instagram-worthy spot, right inside your living room or bedroom.
2. White Faux Fur Saucer Chair

Every room needs that one special go-to chair. Now, if you still haven't got one, this might just be it. This white faux fur folding saucer chair takes room makeovers to a whole new level.
Since it's made with high-quality faux fur fabrication, it has a warm cushion that completes the picture of you on a cold rainy day sipping a hot cup of coffee or tea. This saucer chair is compact and easy to store, so you don't have to worry about not having enough space in your room for it. It can accommodate a total weight of 225 lbs.
3. Oversized Folding Saucer Chair

Looking for that big and cozy spot where you can relax after a long tiring day of work or school? This is the saucer chair for you. It features a seating area made out of 100% polyester making it soft and comfy.
You can use it anytime and anywhere you want, because it's portable and there is no longer a need for complicated assembling. This folding saucer chair comes in different colors for you to choose from, so you can pick one that matches the design of your living room.
4. Zebra Faux Fur Saucer Chair

Add some fun safari vibe to your room with this zebra-print foldable saucer chair. It's supported by a metal frame that ensures its durability and safety. It is easy to use because you can open and fold it in just a few seconds.
With its high-quality seat cushion, there's no need to worry about back pains caused by sitting for a long time. This decorative furniture piece is also space-saving, so you can store it without the hassles of clearing up a huge area in the room.
5. Leisure Folding Saucer Chair

More than being a home furniture item, foldable saucer chairs can also be camping partners. Enjoy a fun barbecue session with your family and friends with this leisure saucer chair.
It's made with 100% Oxford fabric that makes it wear-resistant and perfect for any type of weather. It also features a padded seat chair for that added comfort. It has a rugged steel frame design that could accommodate a total weight of 330 pounds. What's even better is that it comes with a carry bag, which makes it super easy to transport.
Why Your House Needs a Saucer Chair
A house is mostly judged by its interior. Most households aim to give off that warm and cozy vibe in their homes, while others want to have that sophisticated and elegant touch as you enter and take a look around.
To achieve these goals, people invest in various types of furniture, from sofa and tables, to paintings and vases, that can bring to life their ideal homes. And if there is one type of furniture that would fit in almost all living room designs, then it would be a folding saucer chair.
Papasan Chair
The saucer chair is based on the papasan chair, also called a moon chair or a bowl chair. Originating from Japan and the Philippines, the papasan chair is a large bowl-shaped chair with a thick and comfortable cushion.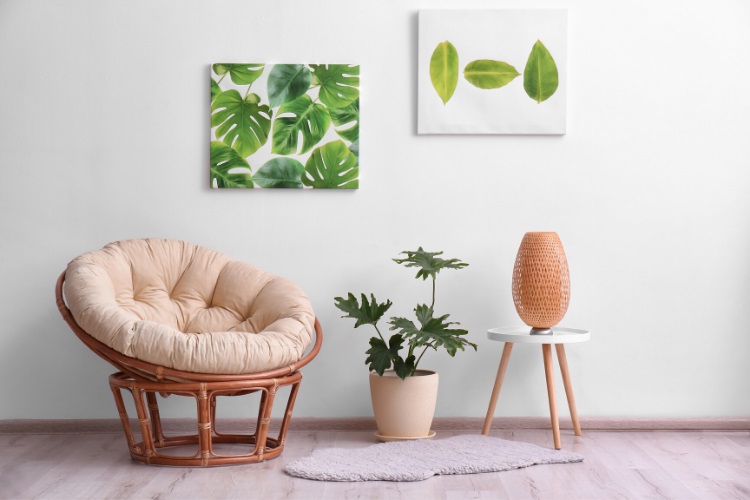 Nowadays, whether you're living in a house, in a dorm room, or in a unit, you can never go wrong with a funky and comfortable saucer chair. This special piece of home furniture enriches living rooms, bedrooms, and even man caves.
One huge benefit of folding saucer chairs is that they are easy to store. They are folding, so they don't need much space when not in use. Similarly, setting them up or moving them around is also as easy as it gets.
A Chair to Relax In
Most folding saucer chairs have a relaxing and soft feel. It often becomes the go-to chair for people to go read a book, to play video games, or to just chill and hang out in the living room while enjoying quality time with family and friends.
Saucer chairs come in various designs and colors, so it's important to pick one that matches the style of your living room. It's even more important to choose one that is both comfortable and sturdy, so make sure you check the materials used.