Please note that I may earn a small commission from purchases made through product links in this article. As an Amazon Associate I earn from qualifying purchases.
Last updated: June 20, 2021
Buying a gift for that special man in your life who already has everything can be a huge challenge, but certainly not impossible.
Let us help you out in case you're stuck for ideas to find a suitable gift for your husband's birthday, your spoiled boyfriend's graduation night, or your dad's upcoming retirement party.
We've come up with a list of awesome gift ideas for men who have everything, ranging from reasonably affordable to ridiculously expensive.
1. Jellyfish Aquarium

Who wouldn't like to stare at jellyfish from your very own living room. Believe it or not, but the constantly moving jellyfish in this aquarium are meant to have a relaxing, or even therapeutic effect on you. With color lighting effects and active jellyfish, this aquarium could just be a winner.
PS: In case you're worried, the jellyfish are in fact not real. But don't tell him that.
2. Hooded Jumpsuit One Piece Pajamas

This gift is perfect for that man who not only wants to look cool outside, but also inside their home in the evenings. Most guys would want to have this hooded jumpsuit as their pajamas, they just never knew it even existed.
The hooded long-sleeve design of this pajamas includes a spacious and comfortable hood, generously sized front pockets, and a zip front opening that makes it a beautiful one piece.
3. Premium Art Deco Whiskey Glass Set

A lot of men appreciate a good quality glass of whiskey, but the reality is, most of them will drink it from a plain old boring glass. To enhance the experience and to respect the goodness of whiskey, one should ideally use a premium glass.
This particular set of two whiskey glasses have premium written all over them, complete with exquisite presentation box. The classic yet sophisticated design of the glasses is stunning, made with non-leaded crystal.
4. Personalized Leather Mens Wallet

A personalized leather wallet with initials on the outside and a personal message on the inside is the perfect gift idea for a man's birthday, graduation, wedding, or anniversary.
Made from smooth split cow's leather, this wallet with superior stitching, sturdy slots and zipped coin pouch is going to leave a lasting impression.
5. High-End 3D Printer

3D printers are all the rage these days, and even though your man might already have everything, we're almost sure he doesn't yet have a 3D printer. Imagine you can create new objects by simply pressing a printer button. Okay, it's not that simple, but this is no doubt an incredibly cool gift.
This particular design is safe and super easy to use, and comes with special educational software. This is your chance to be introduced to the creative and exciting world of 3D printing.
6. Deluxe Metal Chess Set

One can play chess, or one can play chess in style. This deluxe metal chess set with wooden board and storage takes playing chess to a whole new level.
If that special man in your life is an enthusiastic chess player, this set will surely put a smile on his face each time he's getting ready to play a game.
7. Robot Vacuum Cleaner
>> No products found
What's cool about a robotic vacuum cleaner is that it not only cleans your house remarkably well, it's also an incredibly cool gadget to play with and watch it doing its thing. That's right, it makes vacuum cleaning so much fun.
Just sit back and relax while this little machine sucks up all the dust, dirt, pollen and pet hair from your floors all on its own. No matter how big your house, this remote controlled robot vacuum cleaner will take care of it.
8. Retro Portable Photo Printer

Remember those Kodak instant photo machines from back in the day? Guess what, they're back! This retro style Kodak photo printer connects to any mobile device and is able to print your favorite photos directly from your phone.
This particular model prints premium fingerprint-proof and waterproof 3×3 inch photos in layers of ribbon. The free app lets you easily connect your phone and manage all your prints. Storing photos on your phone is great, but the best to re-live the better moments in life is by having real pictures.
9. DJI Phantom Drone Quadcopter

If the man in your life does not yet have a high-tech drone, this is your chance to get him hooked. A drone wakes up the inner child in men, and with the DJI Phantom you can hardly find a better drone.
This model is an absolute beast of a drone, or rather, a quadcopter. It can reach a maximum flight speed of 45 mph, and with the different flight modes there are endless possibilities in regards to flying and creating footage.
10. Relaxing Massage Chair

Life can be stressful, even when you have already have everything in life. The best way to quickly get over a very stressful day is by taking a seat in this premium massage chair. Simply close your eyes and let the chair do its magic for you.
With 9 different auto programs, this chair will give you the best full body massage ever, depending on your needs and mood on the day.
11. Portable Sauna

Imagine if you don't need to leave the house to enjoy a classic sauna session. You can roll out of bed and jump straight into the sauna before having breakfast. Some might argue that's a lot better than jumping on that dreaded treadmill.
This particular sauna with eight carbon fiber far infrared heaters and built-in AUX control and 2 premium speakers can fit up to three people at once.
12. Beast Vacuum Insulated Coffee Cup

This travel coffee cup isn't like any other insulated cup. This particular model is a double walled stainless steel that comes with two unbreakable straws. It can keep your much needed coffee (or tea) nice and warm for many hours, and your smoothie cold for as long as it needs to be.
The splash proof closable lid is the finishing touch, and keeps your favorite drink insulated and protected from the elements. This cup doesn't just do a perfect job at keeping your drink safe and tasty, it also has the best looks.
13. Oversized Gas Grill Barbecue

If your favorite man doesn't necessarily enjoy spending time in the kitchen cooking dinner, this premium gas grill might just turn him into a real chef.
This stainless steel beast of a machine offers a whopping 844 square inches of cooking surface, and comes with 4 stainless steel high-performance burners, 1 side burner, and 1 sear station burner.
14. Underwater Drone With HD Camera

Imagine a remote controlled submarine type object that can send real-time video of the mysterious underwater world. That is now possible with this very exciting mini underwater drone with HD camera.
Controlling the drone is super easy; simply use the game-like remote controller and the drone will fly through the underwater world like a dolphin. Even better, with the app you can even control the drone with your smartphone
This underwater drone can achieve a top speed of 4 knots, can be tilted to 45 degree angles, and can be locked at your desired depth for the best footage, up to 330ft deep. Chances are, that rich man in your life will be happily surprised to receive this underwater drone as a gift.
15. Hot Tub Boat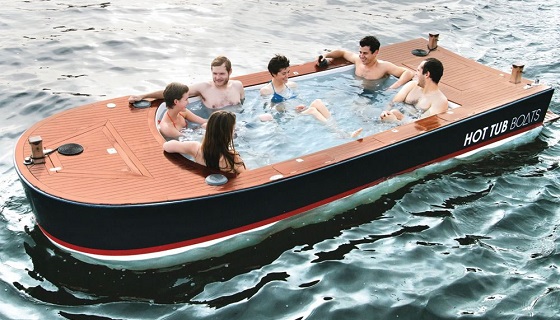 If you really don't know what to do with your money, then this hot tub boat is definitely worth looking into. I mean, who wouldn't like to float away in a luxury hot tub with their best mates?
The vessel itself is 4.6 meters long, and the 2.4 meters and 104 degrees Fahrenheit warm hot tub can easily fit up to six lucky people. The rechargeable battery can provide up to 10 hours of non-stop pleasure. And if that's not enough to convince you, this lovely boat also comes with a waterproof stereo system with pop-up speakers, four ice chests and extra storage compartments.
Hopefully the above list of gifts for men who already have everything has given you some inspiration to think outside the box. Let's conclude this article with a few more tips to help you find that perfect gift.
When the rich man in your life has all the money in the world and you're not sure what gift to give him, it's important to look at his personality. Does he like to laugh? Is he a very practical man? Buy him something that isn't necessarily expensive, but matches his personality.
Think about the occasion you're buying the gift for. If it's an anniversary, retirement or some other unique event, find him something personal, something that will make him feel special. This could be as simple as a pen with an inscription.
If you're seriously unsure what to buy, find him something that's unusual. A weird gadget, or a unique desk toy that no one else has. Be creative, but also try and keep the gift as practical as possible.